Care 24-7 is Australia's leading provider of specialist-led, private hospital emergency departments, delivering fast, expert care to you and your family at your time of greatest need.
You can come to our emergency departments 24-hours a day, every day of the year, including public holidays.
An out-of-pocket fee means that you will experience a minimal wait time before you see an experienced senior emergency specialist at either Calvary Adelaide Emergency Department in South Australia or Buderim Private Emergency Centre on Queensland's Sunshine Coast.
When every minute counts, you can trust Care 24-7's emergency specialists to provide you and your family with fast, expert, end-to-end treatment: symptom assessment, diagnosis, access to specialists – and hospital admission if required.
You will notice the restful, calm environment from the moment you arrive, and can expect to be treated with respect and compassion by our expert team.
Care 24-7 partners with private hospitals to provide excellent Emergency Department (ED) medical care to people at their time of need, making a difference to the communities we serve one patient, one family at a time.
We are privately owned, not government funded, and provide specialist emergency services to adults and children 24 hrs, 7 days a week, including public holidays.
We currently operate:
Calvary Adelaide Hospital Emergency Department (Adelaide, South Australia), since 2021
Buderim Private Hospital Emergency Centre (Sunshine Coast, Queensland), since 2018
Our care and service approach is underpinned by three guiding principles:
Concerned guardians: When every minute counts, Care 24-7's emergency specialists can be relied on to provide you with fast, expert, end-to-end treatment: symptom assessment, diagnosis, access to specialists – and hospital admission when required.
Empowered experts: Care 24-7's team of emergency specialists use their expertise and initiative when treating patients, and can quickly access tests, scans and other specialists. It means they can provide the highest level of patient care and satisfaction – which is why they chose medicine as their vocation in the first place.
Trustworthy partners: Care 24-7's emergency department expertise, its progressive approach to departmental systems, governance and reporting, combined with its collaborative relationships, creates better outcomes for patients and for the hospital.
The result? Less waiting, more caring.
DEDICATION
We provide best practice emergency medicine to patients. We commit to our patients' care and well being. We ensure we are up to date with our training and credentialing requirements. We keep up to date with new medical techniques.
COMPASSION
We show empathy and compassion to our patients and their families. We treat people with dignity, respect, understanding and care. We listen. We communicate in a compassionate manner.
BELONGING
We have the best interests of our patients at heart at all times. We are an inclusive team and look to support each other. We build relationships with patients, with their families and our business partners. We cultivate an environment that is focussed on One Team.
INTEGRITY
We take personal responsibility, communicate openly and honestly and do what we say. We consider patients' needs. We are open and transparent with patients, family members and business partners. We are transparent in our performance.
HEALTHY
We proactively seek improvement opportunities to better ourselves and the business. We take responsibility for developing our own skills and knowledge base (proactive). We encourage robust open and constructive feedback. We work as a team and are not afraid to ask for help. We support and help each other.
Our leadership team is comprised of high performers from diverse backgrounds who are responsible for the overall management and strategic direction of Care 24-7 Pty Ltd.
Dr Sharad Pandit

Managing Director
MBBS, FACEM, FACEP, MBA
Sharad is the Managing Director of Care 24-7 and has vast years of international experience including India, Germany, UK and the USA and has been resident in Australia since 2002. Sharad has held senior consultant positions in Paediatrics and Emergency Medicine in the United States and Australia and has been in charge of the Calvary Adelaide Emergency Department since 2011.
Sharad is a passionate and driven high performer who enjoys giving back to the community and continues his passion for learning as evidenced through his MBA studies.
Sharad is, and continues to be, a high-level athlete competing in national and international Table Tennis events and has numerous national titles to his name. Sharad is a volunteer international classifier for Para Table Tennis.
Paul Langley

Chief Executive Officer
DIPBUS., GAICD, CERT GOV (ADMIN.), GIA (CERT), MRMIA, OLY
Paul is responsible for the management of the Care 24-7 group and has over 20 years' experience in senior management positions in a highly complex, multilayered and regulated industry.  Paul's roles have included senior governance, risk, compliance and company secretarial functions.
Paul is collaborative by nature and builds strong partnerships with internal and external stakeholders to ensure positive outcomes for all parties and the community in which Care 24-7 operates.
On a personal note, Paul has represented Australia at the Olympic Games as a competitor, team manager and coach and holds numerous Australian and international titles.  Paul is an active volunteer in the community and is an experience Board member on numerous non-for-profit Boards.  Paul is married with 2 children.
Dr Jarrod Koh

Medical Director – Adelaide
MBBS, FACEM
Dr Jarrod Koh is the Medical Director for Care 24-7 in Adelaide, a position he has held since 2011. He is also the first full time private Emergency Specialist in South Australia. Jarrod has extensive experience in emergency medicine in South Australia, both in large public hospitals and private emergency departments. He has also spent time in emergency medicine in Darwin, NT.
Jarrod has been actively involved in the training and supervision of emergency medicine trainees and medical students in emergency departments. He has conducted teaching sessions for interns and been involved in undergraduate tutorials for medical students studying at the University of Adelaide. Jarrod continues to be involved in teaching, giving regular lectures to nursing and medical staff employed at Calvary Adelaide Hospital.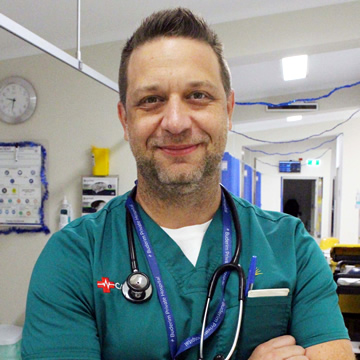 Dr Michael Natale

Medical Director – Buderim
MBBS, FACEM
Dr Michael Natale moved from Canada to Australia to undertake his medical training and graduated from the University of Sydney. Dr Natale obtained his Fellowship with the Australasian College for Emergency Medicine while working in the busy tertiary Emergency Department at the Canberra Hospital.
After holding positions with the Capital Region Retrieval Service and the Canberra Hospital, he undertook new challenges moving to Queensland to become the Director at the Nambour General Hospital. Dr Natale is the inaugural Medical Director of the Buderim Emergency Centre whose leadership qualities also saw him and his team commission the tertiary level Sunshine Coast University Hospital Emergency Department as the Clinical Director. Dr Natale has been recognised by the Australasian College for Emergency Medicine winning a Leadership Scholarship and has since undertaken advanced development to hone his skills.